0
Comments
Article Rating:0 | Read: 254
By Alex Labidou
Jun 13, 2011 8:26:00 PM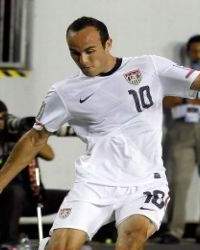 Landon Donovan, USA
Related Links
Teams
Players
KANSAS CITY - After a shocking loss at the hands of Panama, Bob Bradley and the United States men's national team have felt the heat heading into its final Group C match against Guadeloupe.

While most players admit that the loss was disappointing, U.S. star midfielder Landon Donovan believes that most of flak that the team has received has been overblown.

"I've been doing this long enough to not get too hung up on one result," said the 29-year-old, who has 130 appearances for the Stars and Stripes.

Donovan argues that the U.S. was never out of its match against Panama and pointed to several plays that almost gave the U.S. a result to prove his point.

"There were a few chances that could have gone in," said Donovan. "Clint (Dempsey) had a good chance and Jozy (Altidore's) shot got blocked."



Bradley agrees with Donovan that despite the previous result, the U.S. played better than most gave it credit for even though he also acknowledges that the finishing still leaves something to be desired.

"I think if you looked at our passing numbers, they were pretty high in the percentage," said Bradley. "The ball movement was fine but in some cases we weren't sharp enough when we got into the final third."

Bradley also stood up for his young center back Tim Ream, whose errant tackle on Saturday lead to a Luis Tejada penalty goal. 

Often praised for playing beyond his young age of 23, Ream looked very inexperienced against Panama's attacking players in one of the worst performances of his career. Still, Bradley argues that Ream's year and a half of being a starter on a winning team gives him a confidence to respond and react to negative situations.

"Tim is an intelligent player. I think he understands the process of getting better," said Bradley. "He's been in the league. When you play professionally week after week, you learn that there will be times where you'll have a game or a play that you're not happy with one day. You learn from it and move forward. "

Despite all of the external criticisms leveled at Bradley and his men, it appears they remain confident in themselves and their coach.

Alex Labidou is the Deputy Editor of Goal.com USA. Agree or disagree with the story above? Give him a shout @sportslab on twitter.

Visit the U.S. national team page on Goal.com for more and join Goal.com USA's Facebook fan page!
Breaking News
Founder and General Overseer of the Synagogue Church, Prophet T.B. Joshua says in an unusual manner, God did not reveal the death of Ghana's President, ... Full story