0
Comments
Article Rating:0 | Read: 276
By Matthew Rossleigh
Jun 13, 2011 10:45:00 PM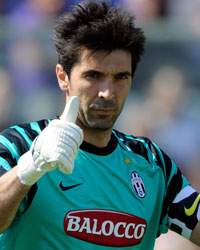 Gigi Buffon - Juventus (Getty Images)
Related Links
Teams
Players
Gianluigi Buffon has confirmed that he will remain at Juventus next season despite reports linking the veteran goalkeeper with a move away from Turin this summer.

Buffon, 33, endured a disappointing 2010-11 season for the former Italian champions as he could make only 16 Serie A appearances because of injuries.

The Italy international custodian has been linked with a move to Roma in the summer but he has dismissed such a notion, telling La Gazzetta dello Sport: "I will return to be the Buffon I once was. I feel a lot of love for Juve.

"In the past year with the club there have been some misunderstandings but I don't want to blame anyone. The club executives have learned to know me better and, I hope, to also appreciate me more. Hence, there's no doubt about my future. I will remain at Juve 100 percent."

Juventus finished seventh in the league last season under Luigi Del Neri and missed out on European football next campaign. The club's former midfielder Antonio Conte is now the new coach and Buffon is excited to be playing under him.

"I think next term we can do good things," he said. "Conte called me up and said to me important words that make me feel part of the project."

Keep up to date with Serie A and Italy news with Goal.com's Italy page and join Goal.com USA's Facebook fan page!
Breaking News
Founder and General Overseer of the Synagogue Church, Prophet T.B. Joshua says in an unusual manner, God did not reveal the death of Ghana's President, ... Full story