0
Comments
Article Rating:0 | Read: 250
By Daniel Edwards
Jun 8, 2011 7:00:00 AM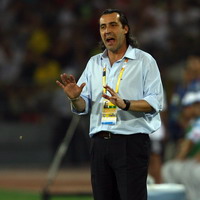 Sergio Batista, Argentina
Related Links
Teams
Players
COMMENT
After a surprisingly easy ride from many in Argentina, the honeymoon period of coach Sergio Batista has come to an end just weeks before the Copa America. His standing as head of the national team has suffered a setback thanks to indecision in the Carlos Tevez affair, and the friendly debacles against Nigeria and Poland, and 'El Checho' must deliver success in the home Copa to regain the trust which has been damaged in recent weeks.
By all accounts, compared to his predecessor Diego Maradona, the 1986 World Cup winner has flown much further under the radar than his controversial teammate, attracting little flak from the famously capricious Argentine media. Part of this can be explained by differences in personality. As 'El Diego' has reminded us in the last few weeks, he cannot stay away from polemical statements and the ability to alienate those around him is an inextricable part of his character.
It must also be said, however, that 'Checho' faced none of the pressures of his former friend and teammate on taking over. His first year has consisted of a series of friendlies of varying levels and difficulties, whereas Maradona took over in the middle of a failing World Cup qualifying campaign where every game was a final. Nevertheless, Batista is now undoubtedly feeling the pressure of a nation where football represents everything, and the problems he faces have little to do with the performances of Lionel Messi, Esteban Cambiasso and the other stars who will be gunning for glory in July.
You cannot play against teams as good as Nigeria... with players who are not up to scratch

- Grondona slams friendly performance

"You have to understand, that the prestige of the Seleccion is not for sale," stated AFA chief Julio Grondona - a withering condemnation of Argentina's latest encounters against Nigeria and the Poles.
Teams like Argentina are simply not supposed to lose 4-1, less so against sides like Nigeria, and while that assessment is wildly unfair on an African nation which dominated from start to finish, it is how the game has been received in a country which does not distinguish between U-25, B, domestic-based or even youth sides. The Seleccion at any level is expected to win, and Grondona's criticism is a blow to 'Checho' and his grand project for Argentina. How can the coach risk another disaster like Abuja by fielding similar squads in the future?
If last week's defeats hurt Batista in footballing terms, the shambolic handling of Carlos Tevez's exclusion and then subsequent inclusion in his Copa America plans did considerable damage to his reputation as a man.
"I didn't call Tevez for footballing reasons", was the constant refrain of the coach for the last six months, as the uproar grew in Argentina for the fans' favorite son to be included. He did not believe that Carlitos was compatible in his Barcelona-style 4-3-3 formation, and for that reason would not be selecting him. A firm, if somewhat contentious, conviction for the coach to hold.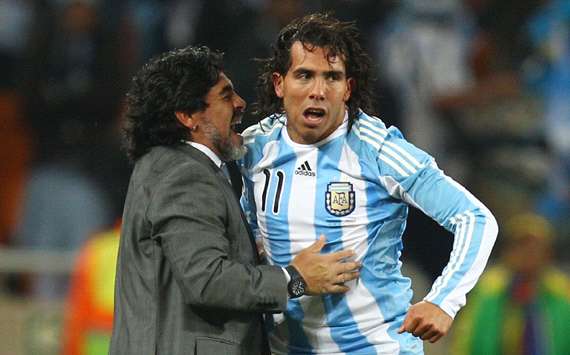 The Tevez Issue | Batista's handling of Carlitos has been less than exemplary
But this makes his subsequent turnaround all the harder to swallow. After one meeting in Buenos Aires, Batista decided to include the Manchester City man in his Copa America squad, telling press that this was because he was neither "closed-off nor spiteful." One of the form players in the European leagues over 2010-11, there is no question Tevez is a worthy addition, but the question was left hanging like a lead weight. Had the footballing reasons changed overnight? Or had 'Checho' bowed to outside pressure, proving himself anything but a strong leader for a national team that demands an iron fist?
It is important not to overstate these first bumps on the road to Brazil 2014, as they can be interpreted as mere blips in what has overall been an exemplary first year in charge of the Seleccion. It confirms, however, that for all the talk of the Copa America being a secondary concern, victory in this tournament will be crucial for 'Checho' and his players.
The honeymoon is over. The demanding Argentine public now feels free to shine the spotlight on their coach, and failure to win the trophy after an 18-year drought - or worse failing to make the final - would raise serious questions about his tenure just 12 months in.
Follow Goal.com on

to get the latest soccer news directly. Check out Goal.com's

page; be part of the best soccer fan community in the world!
Breaking News
Founder and General Overseer of the Synagogue Church, Prophet T.B. Joshua says in an unusual manner, God did not reveal the death of Ghana's President, ... Full story