0
Comments
Article Rating:0 | Read: 140
By Wayne Veysey
Jun 2, 2011 7:35:00 AM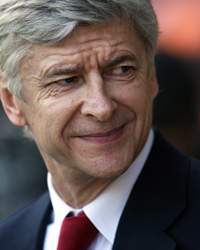 Arsene Wenger, Arsenal
Related Links
Teams
EXCLUSIVE
Arsenal and Belgian club Anderlecht will hold a second round of talks this month over setting up a player-exchange partnership.
Herman van Holsbeeck, the general manger of Belgium's most successful club, told Goal.com that he will fly in to London "in a couple of weeks" to discuss ways in which the two clubs can form a mutually beneficial tie-up.
The idea is that it would be a technical partnership similar to the schemes that Arsenal set up with Belgian club Beveren and Spanish clubs Celta Vigo and UD Salamanca in the 2000s but which all eventually collapsed for various reasons.
Initial talks between Arsenal and Anderlecht in London in May focused on the possibility of the Premier League giants offering non-EU eligible players on loan to gain experience in the Jupiler Pro League and in European competition, with the Gunners also in pole position to target Anderlecht's most promising youngsters.
"It is interesting for both parties," Van Holsbeeck told Goal.com. "I know they have a lot of good players that can play at a club who are in the Champions League or Europa League every year, play in competition every three days and where there is also a lot of pressure.
"For the moment nothing is decided. I was there a month ago and I will be back in a couple of weeks. I hope we can do something. That is what we both want."
Carlos Vela is one player that was on the Brussels club's radar although he is not interested in a move to Belgium.
It is understood that the partnership would also focus on exchanging coaching and scouting methods. Anderlecht has a solid record of developing young talent in recent years although an agreement with Arsenal would not give the London club any advantages in signing highly rated teenage striker Romelu Lukaku or goalkeeper Silvio Proto.
Nevertheless, it would give Arsenal a foothold in a market that is producing some of Europe's most outstanding talent.
The Premier League club had a particularly fruitful five-year partnership with Beveren between 2001 and 2006.
During the course of the relationship, Arsenal players Steve Sidwell, Igors Stepanovs, Liam Chilvers, John Halls and Graham Stack all spent successful loan periods at Beveren, as did Emmanuel Eboue and Yaya Toure, who both played in a number of trial matches with Arsenal whilst contracted to Beveren. Such was the former player's success, Arsenal subsequently signed Eboue on a permanent basis.
Vela had loan spells at Celta Vigo and Salamanca when he was ineligible to play for Arsenal due to work permit restrictions.
Follow Wayne Veysey on

 

Breaking News
Founder and General Overseer of the Synagogue Church, Prophet T.B. Joshua says in an unusual manner, God did not reveal the death of Ghana's President, ... Full story