0
Comments
Article Rating:0 | Read: 128
Championship
Eddie Johnson, Preston North End (On Loan from Fulham)
Season Stats: 30 appearances, 0 goals, 2 assists. Club finished 22nd, relegated to League One.
Johnson split his season playing for home club Fulham and on-loan at Preston North End. Despite starting the majority of the time at Preston, the striker could not find the net. He did prove to be instrumental on April 9 when he assisted on the opening goal against Portsmouth. Johnson found a cutting Iain Hume with a sleek pass, leading to the game's opening goal.
Although Johnson was given a sizeable portion of playing time, his aggression was definitely lacking at times.  There was a three-game stretch in February when Johnson failed to hit a single attempt at goal. Preston's form was off all season but the former Kansas City Wizard didn't really standout amongst the mediocrity.
With Fulham heading back to the Europa League thanks to the Fair Play rule, Johnson could see some quality playing time during the early stages. The striker's contract is up this summer and although he could be re-signed by Fulham or be picked up by another European club, a return to American soil may just be what the doctor ordered for the 27-year-old.  
Robbie Findley, Nottingham Forest
Season Stats: 2 appearances, 0 goals, 0 assists. Club finished 6th.
Findley suffered from a thigh injury for the majority of the campaign after coming to the club in January. He did get on the pitch in April but struggled to get back into form. Forest made it to the Championship Playoffs but was eliminated by Swansea.
The forward was praised by Manager Billy Davies and should be an important part of the team's attack next season.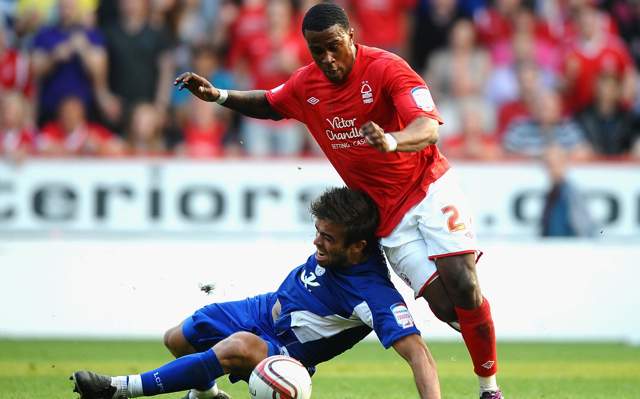 Eric Lichaj, Leeds United (On Loan from Aston Villa)
Season Stats: 24 appearances, 0 goals, 1 assist. Club finished 7th.
Lichaj spent the majority of the season with Leeds United and excelled at right and left back. The 22-year-old helped the club maintain four clean sheets during his 16 appearances, a solid ratio. He even played provider during a 4-1 route of Nottingham Forest back in April when he set up Jonathan Howson's opening goal.
He'll return to Birmingham for now but as stated that he'd welcome a return to Leeds if it means more playing time. The Villains failed to qualify for Europe so playing time could be sparse. Either way, Lichaj has set himself up nicely for the 2011-2012 season as he's proven to be a valuable commodity. The defender was rewarded for his strong season when it was announced that he had been named to this summer's U.S. Gold Cup roster.
Mike Grella, Leeds United
Season Stats: 20 appearances, 4 goals, 0  assists. Club finished 7th.
The 24-year-old striker was all over England this season. He started the campaign with Leeds, moved to Carlisle, and finished with Swindon Town.  In the Championship, League One, and cup competition he scored four goals; not a bad tally considering the circumstances.
After being shipped to Carlisle in early October, Grella made an immediate impact, scoring in three of his first seven contests. Although Carlisle didn't win any of those games, his form was encouraging but he returned to Leeds in January. Motherwell attempted to sign him but a FIFA regulation blocked the move and Grella was subsequently loaned out to Swindon.
He scored once during his seven appearances but abruptly left the club a month before his loan was set to expire. Grella cited a "lack of involvement" as his reason for leaving which drew heavy criticism from both Leeds and Swindon.
Not surprisingly, Grella has been put on the transfer list by management, meaning the striker is likely headed elsewhere. Several teams have expressed interest including prior suitors, Motherwell.
Zak Whitbread, Norwich City
Season Stats: 23 appearances, 1 goal, 1 assist. Club finished 2nd, promoted to Premier League.
The defender's season got off to a slow start due to injury, but after the New Year Whitbread was instrumental in keeping the Canaries in the title mix. He aided the defense immensely, helping the club to five clean sheets and a second placed finish. He even got on the score sheet in March when he tallied a goal against Hull during a 1-1 draw.
Whitbread was very successful with Millwall a few years ago and really showed that form again this season. He'll be heading up to the top flight next season and likely make his first ever Premier League start. The defender was a member of Liverpool five years ago but only featured in cup fixtures.
Conor Doyle, Derby County
Season Stats: 15 appearances, 0 goals, 1 assist. Club finished 19th.
Doyle's season was plagued by limited substitute appearances (he made just five starts all year), but excelled in other aspects, creating a silver lining for the 2010-2011 campaign. At just 19-years-old, Doyle wasn't given much first team time but he did have a few solid moments in the Championship. His lone notable statistical contribution in the first team came against Swansea in March when he set up Steve Davies' opening goal.
On top of that experience, the striker spent some time playing for the U-20 national team, notching a goal in the CONCACAF U-20 Championships. Doyle also helped the Derby Reserves win the League Central Division title. All in all, Doyle is in good shape heading into next season.
League One
Frank Simek, Carlisle United
Season Stats: 56 appearances, 0 goals, 3 assists. Club finished 12th.
Simek played in an astounding 56 games over the past season, a huge increase from last year's 15. The former Arsenal man was a defensive dynamo for Carlisle, helping the team log 16 clean sheets. The season started off in fantastic fashion for Simek as he fired in the winning penalty kick during a shootout against Port Vale in early October. The win advanced Carlisle further into the Johnstone's Paint Trophy tournament and set the stage for a quality season.
More drama found Simek in March when the defender's cross made way for Bernard Zoko's 67th minute winner as Carlisle bested Hartepool 1-0. One month later Simek helped preserve a 1-0 lead at Wembley Stadium as Carlisle defeated Brentford to lift the JPT trophy.
Although the squad stumbled down stretch, losing six of their final nine games, the season was a success due to the jump in league position (up from 14th in 2010) and the aforementioned Wembley victory. Simek dislocated his arm in the final match of the season but is confident that he'll be ready for the start of pre-season training.
Anton Peterlin, Plymouth Argyle
Season Stats: 14 appearances, 0 goals, 1 assist. Club finished 23rd, relegated to League Two.
Peterlin didn't get a whole lot of playing time this season. The 24-year-old struggled to earn his spot, limiting him to just 14 appearances all year. He was creative at times and did provide a huge match-tying assist in March when he set up Yannick Bolasie in the 84th minute.
Still, his moments were few and far between. It didn't help that the club struggled to survive most of the campaign. Eventually, Plymouth lost the fight and faced relegation, prompting several player releases. Unfortunately, Peterlin was a casualty of the demotion and will have to find work elsewhere next season. The former Everton reserve is an average midfielder and will have to impress this summer if he hopes to play in England this fall.
League Two
Jon-Paul Pittman, Wycombe Wanderers
Season Stats: 20 appearances, 4 goals, 0 assist. Club finished 3rd, promoted to League One.
Pittman came out of the gate on fire, scoring in the first game of the season as Wycombe won 2-0. Unfortunately, the striker would suffer a knee injury in September and miss nearly four months. After returning, Pittman was used mostly as a substitute, scoring three more goals including a stunner against Oxford United in April. The striker launched a diving volley into the back of the net to give the Chairboys a 2-2 draw.
Despite the club's promotion to League One, Pittman was released at season's end. Oxford United quickly swooped in, signing Pittman to a two-year deal. The Oklahoma-born talent has scored over 35 goals in England during his six year career and will surely add to his tally at Oxford next season. 
Seb Harris, Northampton Town
Season Stats: 5 appearances, 0 goals, 0 assists. Club finished 16th.
Harris was limited to just five League Two appearances and was loaned out to non-league clubs for the remainder of the season. The 23-year-old spent time with Stafford Rangers and Nuneaton Town of Conference North, making 12 appearances in all. He played well for the most part, scoring one goal at each stop.
Sadly, Harris was released by the Cobblers last week. The defender turned striker made just 14 appearances over his two seasons with the club, scoring one goal back in February of 2010. He could catch on with another League Two team but may wind up back in non-league competition next season.
Meanwhile Up In Scotland…
Maurice Edu, Rangers
Season Stats: 43 appearances, 5 goals, 1 assist. Club finished 1st in SPL.
Edu truly had a breakout campaign this past season, claiming his spot in the starting line-up while proving to be an entity in the clutch. The midfielder more than doubled his appearances, up 23 from last year and increased his scoring from two to five. Rangers succeeded across the board with Edu playing a pivotal role. The Scottish giants won the SPL and captured another League cup.
The former Toronto FC star came up big in January for Rangers, scoring the opening goal from 25-yards out during the club's 2-1 win over Motherwell. The win sent the team into the finals of the CIS Insurance cup. Then, in February, Edu's last gasp, 90th minute equalizer powered Rangers past Lisbon and into the last 16 of the Europa League. The goal was from very close range but Edu was clever to remain onside long enough to stab David Healy's cross home.
At just 25-years-old, Edu is starting to gain some serious momentum. He'll hope to carry that swagger into this summer's Gold Cup competition.
Extra Time
** Dominic Cervi of Celtic has yet to make an appearance during his three year stint. The third choice keeper was loaned out to Dundee United briefly but failed to start there as well. The Oklahoma native may look elsewhere this summer.
Matthew Braine writes the Americans in the UK piece every Monday. Contact him with your questions or comments at matthew.braine@hotmail.com or follow him on Twitter @MatthewBraine
Follow Goal.com on

to get the latest soccer news directly. Check out Goal.com's

page; be part of the best soccer fan community in the world!
Breaking News
Founder and General Overseer of the Synagogue Church, Prophet T.B. Joshua says in an unusual manner, God did not reveal the death of Ghana's President, ... Full story