Real Madrid's Cristiano Ronaldo: I will not join Manchester City
By Luis Mira
Jun 13, 2011 11:40:00 PM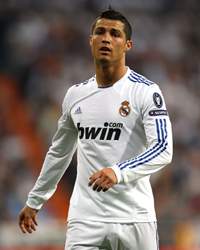 Cristiano Ronaldo, Real Madrid
Related Links
Teams
Players
Real Madrid forward Cristiano Ronaldo has declared that he will not sign for Manchester City in the summer.
The Portugal international has been linked with a move to City as the Premier League side is looking to reinforce its squad to mount challenges on all fronts next season.
It was reported last week that the Citizens were ready to break the transfer fee record with a staggering 170 million euro bid for Ronaldo, to which the 26-year-old allegedly answered that he would only leave the club if he could get City's armband and a 24 million euros per-year deal.
Questioned about the reported bid by Cadena Cope, Ronaldo said: "Not bad, huh? No, I am not going.
"You can write it down there, I am not going. I give you my word. I feel fine and I want to see out my contract. If Real Madrid offered me a new contract, I would sign it."
Santos forward Neymar and Atletico Madrid striker Sergio Aguero have been mooted as possible summer targets for Madrid, and although Ronaldo praises both players, he says that he does not know anything of his club's interest in the pair.
"They talk about those players for Real Madrid? I did not know. They are both great," he said. "I do not imagine myself with Aguero, he is not here [at Madrid], so I cannot imagine that. But he is great.
"I have only watched Neymar play in two matches and he thrilled me. He is very good."
After spending the second half of the 2010-11 season for Madrid on loan from Man City, Emmanuel Adebayor has been linked with a permanent switch, and Ronaldo believes the Spanish giants should do everything to land the Togolese striker.
"If I were the president, I would keep him, stated the former Manchester United winger. "He is a very good player and a much better person."
"Sometimes it is important not just to be a good player, but all that is behind."
When quizzed on Barcelona's work in the transfer market, the Portuguese said that he does not have the slightest interest in that matter and remarked: "I do not care, they may sign [Diego] Maradona or [Johan] Cruyff. With all due respect, I do not care who they sign."
The Spanish and European champions have been heavily linked with Villarreal forward Giuseppe Rossi and Udinese attacker Alexis Sanchez.
For all the latest transfer news visit Goal.com's Transfer Zone and join Goal.com USA's Facebook fan page!