Report: Everton want Bayern Munich's Miroslav Klose
Jun 3, 2011 6:34:00 AM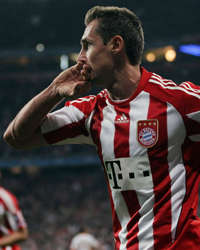 Miroslav Klose, Bayern Munich (Getty Images)
Related Links
Teams
Players
Everton manager David Moyes is reportedly looking to sign former World Cup Golden Boot winner Miroslav Klose.

According to The Mirror, Moyes will offer the striker, whose contract is now up at Bayern Munich, a two-year deal at the Merseyside club on a competitive contract.

The 32-year-old has scored 14 goals in World Cup competition, just one behind the record held by Brazil's Ronaldo, and has a host of clubs looking to secure his signature after Bayern allowed his contract to run down.

Valencia, Juventus, Trabzonspor and Tottenham are all rumored to be interested in the forward and with only one of those sides, Valencia, qualifying for European competition next year, it could be a one-horse race should it follow up on its reported interest.

Klose joined Bayern Munich after a successful period at Werder Bremen and has scored 52 goals in 149 appearances for the Munich club.

This season, however, he has more often than not been displaced from the team by the form of fellow Germany international Mario Gomez, and this is thought to be one of the reasons the German giants have not sought to renew his contract.

For the latest news and updates from Goal.com, follow our Twitter account and join Goal.com USA's Facebook fan page!