Japan's Alberto Zaccheroni: I got the answers I was looking for against Peru
By Cesare Polenghi
Jun 1, 2011 1:50:00 PM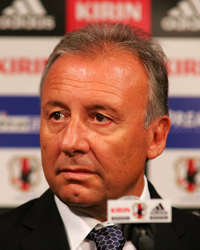 Alberto Zaccheroni, Japan (Getty Images)
Related Links
Teams
With only a couple of days of practice under their belts, Alberto Zaccheroni's Samurai Blue players failed to impress in their first Kirin Cup match. The game ended 0-0, but it surely was Peru who had the best chance to win.

Despite the unconvincing performance, the Italian manager was eager to point out to the positive aspects of the game played in Niigata.

"I always want to win, but more than that, all these games before September's World Cup qualifiers, are important for us to test new tactics and new players."

"I was looking for some answers," continued Zaccheroni "and I got them. Logically, not everything was perfect. It was the first time we played with this [3-4-3] formation, and some of the players arrived from Europe yesterday.

"We now have a few days to prepare the next game versus the Czech Republic, and we'll keep working on ideas that can become useful in some future games."

Peru's Sergio Markarian as well considered the game a positive experience for his team. "We had more chances and we could have won, but Japan is a good team, and I am very happy for the way my game played."

Asked about Japan, Markarian replied that "the player that worried me the most was Honda, and we have seen how he changed the [Japanese] team tonight. He is a top-class player, but I think we contained him well."

"Our goal," concluded the Uruguayan, "is to qualify for Brazil 2014. The Copa America is a step toward that, but as a country, what we really want is to play in the World Cup."