Portugal's Cristiano Ronaldo excludes Real Madrid exit as he targets win against Norway in Euro 2012 qualifier
By Salvatore Landolina
Jun 2, 2011 11:20:00 AM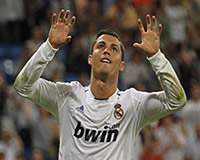 Liga BBVA: Cristiano Ronaldo (Real Madrid)
Related Links
Teams
Players
Cristiano Ronaldo revealed he will not leave Real Madrid during the summer transfer window amid speculative reports linking him with a Premier League return.

The 26-year-old, who scored 40 goals in La Liga, is adamant that the allure of winning bigger titles with Madrid following its Copa del Rey triumph last term will keep him busy at the Bernabeu.

Yet, reports of interest from Manchester City, and former club Manchester United continue to surface, but the Portugal international has no doubt over his future.

"I'm happy at Real. I want to win more titles for the club. I'm settled at Real Madrid and I have no intention of moving," Ronaldo told the press.

An immaculate season was crowned with the Copa, but Ronaldo admits he wanted much more following failed bids to win La Liga and the Champions League which ended in the hands of rivals Barcelona.

"In relation to goals, it was a special season, without doubt. Scoring 50 odd goals is not easy, and I'm extremely pleased about it. But what I wanted more was titles," he said.

Ronaldo's Portugal plays Norway in a Euro 2012 qualifier on Saturday, and the aim is clear as his side is behind Norway in Group H after losing 1-0 in Oslo earlier in the campaign.

"We're at home, in front of our own fans. I'm confident we'll win. I know Norway; I know they're a good team. It's going to be difficult but I believe Portugal will play a good game and win," he said. "If we win we'll be first in the group. We have to beat Norway so we can go on holiday relaxed."

Kick off on Saturday in Lisbon.