Massimo Moratti: Inter without Samuel Eto'o is like Barcelona without Lionel Messi
By Salvatore Landolina
Jun 2, 2011 11:55:00 AM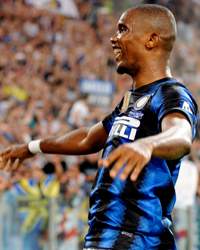 Samuel Eto'o - Inter (Getty Images)
Related Links
Teams
Players
Inter president Massimo Moratti has underlined the importance and impact Samuel Eto'o has at the club by making a comparison with Lionel Messi's status at Barcelona.

Eto'o scored a brace in Sunday's 3-1 Coppa Italia win over Palermo to help lift its only trophy of the season.

The 30-year-old scored 21 goals in 35 games in Serie A, but it was not enough to stop AC Milan from winning the Scudetto.

"I think the others would not be offended if I say Eto'o was the real protagonist of our season. He had such a high work rate that it would be like taking Messi away from Barcelona who, perhaps, without him would not have won what they did," Moratti told the press.

Speaking about the San Siro outfit's season in general, Moratti added: "It was seven out of 10, and so it has been an excellent year.

"But us Interisti can never be happy because there is rivalry with others, and we always want to be happy.

"However, the season went well, despite what happened at the start."

Inter parted company with Rafael Benitez in December after a poor first half of the season and replaced him with Leonardo who delivered the Coppa and a Champions League place.

Before leaving though, Benitez did win the Club World Cup.
Keep up to date with Serie A and Italy news with Goal.com's Italy page and join Goal.com USA's Facebook fan page!